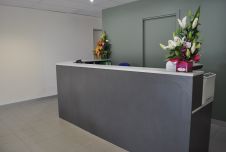 Type PERMANENT (FT)
Sector PRIVATE
A wonderful opportunity has become available to replace an existing position in a busy, highly successful practice located approximately 25 minutes drive north west of Melbourne CBD.
This 2 chair practice is currently seeking an experienced General Dental Practitioner to work Full Time, 9am to 5pm, Mondays, Tuesdays, Wednesdays, Thursdays and alternate Saturdays.
The position we have available is to replace an existing dentist who will be leaving the practice after working with us for 3 years. This is an excellent opportunity for an enthusiastic dentist to take over her patient base.
We are seeking a practitioner who appreciates and practices high quality patient care, is community minded and dedicated to building a solid patient base.
Desired attributes:
Confident Clinician – with a special interest in Oral Surgery & Implants
Intra & Extra Oral Radiation License
Current Indemnity Insurance
AHPRA Registration
Be eligible to practice in Australia
Possess excellent communication and interpersonal skills
Exceptional patient care focus
Ability to work effectively in a team environment
Essential requirements for this position are at least 2 years of Australian, UK or NZ practice experience.
Remuneration is 40% of (gross less lab fees). Commence as soon as possible.